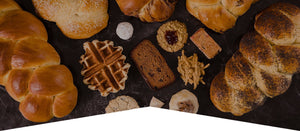 Now Open!!

Kosher Certified/Dairy FREE
We will be closed on October 5th and 6th to observe Sukkot.
Popular Products
Not sure where to start? Try some our most popular baked goods!
Who We Are
The Blessed Braid will prepare creatively authentic kosher non-dairy baked goods so people in Orange County can have fresh options and an opportunity to try new things.
It's a simple mission that is both important and meaningful.
Cheryl Honig
Founder & Baker
How It All Began
The challah are delicious. You could tell they were homemade!

It was delicious, and so big!

These challah are amazing!